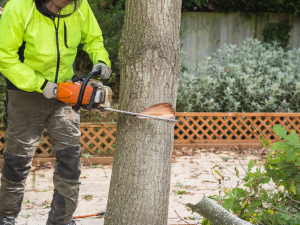 RESIDENTIAL TIMBER TRESPASS IN WASHINGTON – LIABILITY
---
Washington's timber trespass statute provides:
Whenever any person shall cut down, girdle, or otherwise injure, or carry off any tree, including a Christmas tree as defined in RCW 76.48.020, timber, or shrub on the land of another person, or on the street or highway in front of any person's house, city or town lot, or cultivated grounds, or on the commons or public grounds of any city or town, or on the street or highway in front thereof, without lawful authority, in an action by the person, city, or town against the person committing the trespasses or any of them, any judgment for the plaintiff shall be for treble the amount of damages claimed or assessed.
RCW 64.12.030. In a residential timber trespass case, a plaintiff typically must prove: (1) that the defendant cut down or otherwise injured a tree or shrub; (2) the tree or shrub was located on land owned by the plaintiff; and (3) the defendant did not have lawful authority to do so.
CUT DOWN OR OTHERWISE INJURE: TIMBER TRESPASS LIABILITY REQUIRES A DIRECT ACT THAT CAUSES IMMEDIATE INJURY
WORDS HAVE CONSEQUENCES: VERBS IN THE TIMBER TRESPASS STATUTE
Specific acts that create liability are to cut down, girdle, or carry off a tree or shrub. RCW 64.12.030. "The legislature's use of verbs … suggests that the statute applies to direct acts that cause immediate injury, not consequential damage." Jongeward v. BNSF R. Co., 174 Wn.2d 586, 598, 278 P.3d 157 (2012). But the statute also uses a less specific term: otherwise injure. What does that mean?
HISTORY HAS CONSEQUENCES: THE COMMON LAW MEANING OF TRESPASS
To determine the legislature's intent, the courts look to the common law meaning of "trespass" in 1869. This is when the territorial legislature enacted the statute in nearly identical words to the current law. "A subsequent change in the common law does not impact our statutory analysis. We therefore do not consider the modern view of trespass, but the historical view." Id. at 595-96 (citations omitted).
When the timber trespass statute was enacted, trespass was classified into two sorts: trespass on the case and trespass vi et armis. Trespass on the case was an act that was not immediately injurious or a culpable omission. The plaintiff's resulting injury was indirect — consequential or collateral. Trespass vi et armis, most often referred to as simply trespass, was any unlawful act committed with violence, actual or implied, to the person, property, or rights of another. Trespass was also described as a direct trespass — an act done which is in itself an immediate injury to another's person or property. The plaintiff's resulting injury was immediate, and not consequential.
Id. at 596 (citations and internal quotation marks omitted) (emphasis in original). "[B]ased on the common understanding of the term 'trespass' in 1869, it seems more likely that the legislature used the term "trespass" to mean direct acts causing immediate injuries, not culpable omissions causing collateral damage." Id. at 597 (citation omitted). The Court concludes that "the legislature used the phrase 'otherwise injure' to describe direct trespasses that are comparable to cutting down, girdling, and carrying off, such as spiking or poisoning. 'Our cases demonstrate that the statute applies only when a defendant commits a direct trespass causing immediate injury to a plaintiff's trees, timber, or shrubs." Id. at 604.
TIMBER TRESPASS REQUIRES THAT THE TREES OR SHRUBS BE ON THE PLAINTIFF'S LAND, BUT NOT THAT THE DEFENDANT WENT ONTO THAT LAND
The statute requires that the trees or shrubs be on the land of another person, that is, a person other than the defendant. More specifically, they must be on the plaintiff's land. Maier v. Giske, 154 Wn. App. 6, 23, 223 P.3d 1265 (2010). This includes that portion of a public right-of-way in front of a person's property to which that person owns the underlying fee title. Simons v. Wilson, 61 Wash. 574, 575-76, 112 P. 653 (1911).
But is it necessary to show that the defendant went onto the plaintiff's land? Usually, that will be the case – the defendant enters the plaintiff's land and commits the offending act. Nevertheless, the Supreme Court holds otherwise.
Statutory violations involve direct trespass to a tree, not trespass to the land on which the tree grows. Because it is at least possible for a defendant to commit a statutory timber trespass without entering a plaintiff's property, we hold that the timber trespass statute applies when a defendant commits a direct trespass that causes immediate, not collateral, injury to a plaintiff's timber, trees, or shrubs, even if the defendant is not physically present on a plaintiff's property.
Id. at 606.
TIMBER TRESPASS REQUIRES THAT THE DEFENDANT DID NOT HAVE LAWFUL AUTHORITY
There is not much Washington case law on what constitutes lawful authority. Nevertheless, there are some examples that are illustrative. A person may trim the branches and roots of a neighbor's tree that encroach onto his or her property. However, one may not cut down the tree. Gostina v. Ryland, 116 Wash. 228, 232-33, 199 P. 298 (1921). On the other hand, "where a tree stands on a common property line, the common owners of the tree may lawfully trim vegetation overhanging their property but not in a manner that the common owner knows will kill the tree." Herring v. Pelayo, 198 Wn. App. 828, 838-39, 397 P.3d 125 (2017). Presumably, one may cut or trim a non-overhanging tree that is located entirely on another's property only with that person's permission.
The post Residential timber trespass in Washington – liability appeared first on The Gillett Law Firm.