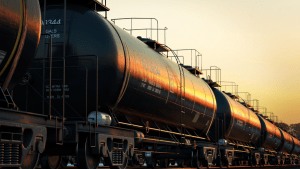 PROTECT COASTAL RESOURCES, SAYS WASHINGTON SUPREME COURT
---
Protect coastal resources when reviewing proposed oil train terminals, says the Washington Supreme Court. In February 2017, the Court issued a decision to protect coastal resources, erecting new barriers to such terminals. Quinault Indian Nation v. Imperium Terminal Services, LLC, 187 Wn.2d 460, 387 P.3d 670 (2017). Crude-by-rail terminals transfer crude from oil trains to marine vessels. The Court holds that such facilities are subject to stringent criteria to protect coastal resources under the state's Ocean Resources Management Act (ORMA), chp. 43.143 RCW.
West Coast petroleum refineries rely heavily on crude oil from Alaska. Production from Alaska, however, is down. West Coast refineries are looking increasingly at inland North American supplies. In particular, North Dakota's Bakken Field is a potentially reliable source of crude. But there are no oil pipelines to bring Bakken crude to the West Coast. Therefore, rail trains are the only viable way to deliver oil. Some crude-by-rail is already being delivered, and additional terminals are proposed.
CITY OF HOQUIAM APPROVES CRUDE-BY-RAIL TERMINALS AT PORT OF GRAYS HARBOR
The City of Hoquiam, Washington issued permits under the Shoreline Management Act to Westway Terminal Company and Imperium Terminal Services. The permits allow development of crude-by-rail terminals at the companies' existing bulk liquid storage facilities. Both companies plan to receive crude oil by rail trains, then ship the oil by marine vessel to regional refineries.
QUINAULT INDIAN NATION CHALLENGES TERMINALS FOR NOT PROTECTING COASTAL RESOURCES
The Quinault Indian Nation and several environmental groups challenged the permits before the state Shorelines Hearings Board. They argue that that ORMA applies to protect coastal resources that are affected by the crude-by-rail terminals.
The Board, however, determined that the ORMA regulation, WAC 173-26-360, limits coverage to "facilities directly engaged in resource exploration and extraction activities in Washington waters" and transportation uses that "originate or conclude in Washington's coastal waters or are transporting a nonrenewable resource extracted from the outer continental shelf off Washington." Therefore, the crude-by-rail terminals do not need to protect coastal resources under ORMA. Summary Judgment Order, pp. 39-41.
The court of appeals affirmed the Shoreline Hearings Board decision. Quinault Indian Nation v. Imperium Terminal Services, LLC, 190 Wn. App. 696, 712-717, 360 P.3d 949 (2015).
STATE SUPREME COURT HOLDS THAT ORMA REQUIRES THE TERMINALS TO PROTECT COASTAL RESOURCES
The Supreme Court reversed the court of appeals, determining that the plain statutory language of ORMA itself "anticipates [the] projects." 187 Wn.2d at 677. The Court held that the transfer of crude oil from land to marine vessels, and the construction of facilities for such transfer, "constitute 'management, conservation, use, or development of natural resources in Washington's coastal waters'." Id., quoting RCW 43.143.030(1). Therefore, ORMA policies apply to protect coastal resources.
Moreover, the Supreme Court found that other ORMA provisions show that the statute applies to the proposed crude-by-rail terminals. In particular, the Court said that 43.143.030(2) "indicates that uses that (1) require government permits and (2) will adversely impact renewable resources, navigation, or other existing ocean or coastal uses are subject to ORMA." Id. (internal quotation marks omitted). The Court summarized this holding: "[T]he plain language of RCW 43.143.030 shows the legislature intended ORMA to apply in this case. The purpose of ORMA is to carefully review development projects that involve nonrenewable resources and pose a risk of damage to the environment in Washington's coastal waters. Because the entire purpose of respondents' projects is to store and transfer fuel from Washington's coast to Washington's waters, the projects fit squarely within ORMA's broad reach." Id. at 680.
The Court then added belts and suspenders. "Even if the statute were ambiguous," the Court said, "we could resolve the issue under [the] promulgated rules." Id. at 678. It then discussed WAC 173-26-360, concluding that the regulation requires application to the proposed facilities because they meet the definitions of ocean uses, transportation, and coastal uses. Id. at 678-680.
The post Protect coastal resources, says Washington Supreme Court, when reviewing crude-by-rail terminals that transfer crude from oil trains to marine vessels appeared first on The Gillett Law Firm.